Meet the Makers behind the creative, inspirational products you'll find at Finding Roots.
We're proud to host these amazing, local Michigan artists.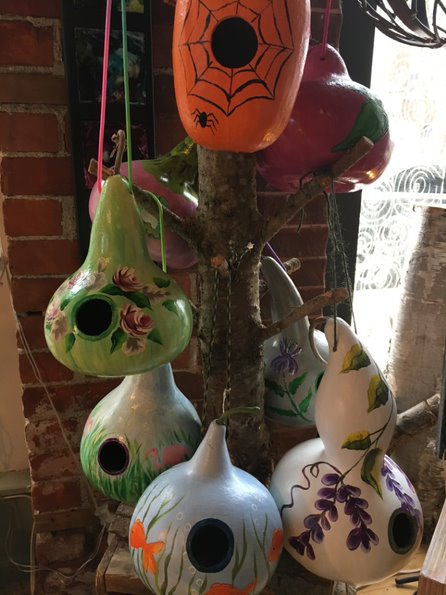 Hand painted and decorated gourd birdhouses for our feathered friends.
I often look to nature for my inspiration when creating jewelry and even use real nature captured in metal through an electroforming process. Each piece I create is handmade with love and light. I use high quality components, crystals and stones in my unique adornments as well as premium ingredients for my soy candles and melts. I am always excited for what the next inspiration will bring! Please follow me on my new adventures.
Brandy has always loved creative things. She especially enjoys making something tired and work out fresh and exciting again.
The first time she touched the clay on the wheel she was in love. She loved everything. The way the clay smelled like the river when the bag was opened. The way it felt on the wheel. Creating something out of nothing, even being covered in mud at the end makes her happy and feel like she has accomplished something! Pottery fulfills a part of her that she didn't even know was empty!
The creator of these beautiful mandala skirts prefers to remain elusive... Her attention to detail is incredible; the back pockets being the perfect finishing touch on the skirts, and the unique and soul-touching words on the intricately beaded bags!
Macrame is a lost art but Cheryl Fraser from Flower Child Crafts is bringing it back. For over 60 years, Cheryl, has been inspired to create from Nature and natural materials. She uses wood from her Howell home and the most natural jute and hemp cording for all her creations that are hand tied and knotted.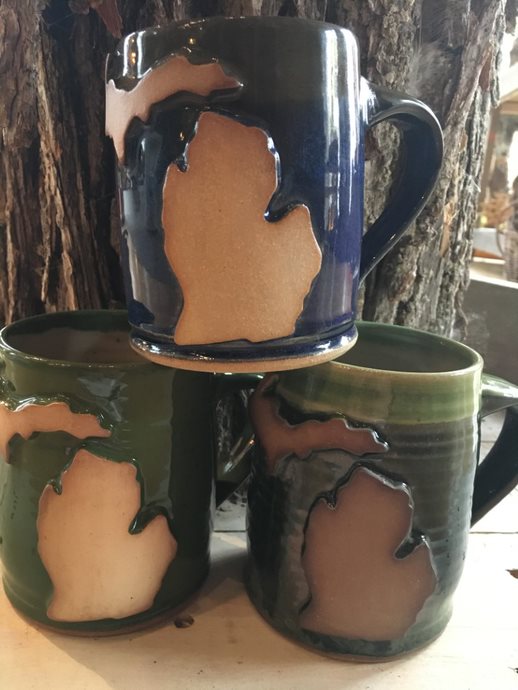 Kelly and Ryan love to experiment and use a variety of glazes. Their creations are microwave and dishwasher safe, and make in their Howell home and barn studios.
Jewelry & home decor made from rescued pieces from Detroit demolition and clean up.
Beautiful hand carved and dyed gourds with natural accents.
Mollie has fun creating barefoot sandals, cup cozies, cactus gardens, fingerless gloves, Groot(!) and anything else that pops in her head.
Krista began her journey with making unique clothing for her littles. She is inspired by their appreciation when wearing them,and find joy in offering others quality clothing in fun fabric and innovative designs. Clothing for infant through adult.
Paul has been creating his entire life and enjoys the contentment it provides. The beauty of wood keeps him inspired, along with the challenge of taking something raw from Nature and turning it into a beautiful object.
What I love most about creating my illustrations is starting from the blank page and ending up with something that can put a smile on someone's face. I love how it turns into something. I love the way creating them makes me feel. It's like meditation for me to work on them. It's a passion for me to create something every day to balance things out.
Sowing Sisters Knotty Garden
Evelyne calls herself a "turquoise junkie," and creates everything with meaning and earthy content.
Natural essential oil room sprays, body mists and rollers.
Michele does all the wire twisting and designing, with the hardest part usually being the engineering of a project - how to make it sit up or hang properly. She loves playing with rocks and crystals, glass marbles and copper wire. Her yard is full of prototypes, to see how her creations stand up to the weather - pretty well so far! She also has a lot of help from her many fur persons!
Connie has been felting for over 10 years, and has been a creative soul for forever. Evolving, the cycle of life, infinity, new beginnings, growth, regeneration; these are all themes she has incorporated into her psyche and her art.
Suzi has made jewelry forever! As a little girl, she would look through her Dad's fishing gear, put all his fishing lures together and that's how the first bracelets were made! She was "hooked"!
Uniquely designed handmade pottery.
Inspired by nature in all things, Nick creates art that is not only from the earth, but resembles and reminds us of the beauty of the world around us.
Carolyn' loves "playing with fire," both in assembling her copper sculptures and in creating lamp work glass pieces: beads, blown forms and sculpture pieces.
Janette loves where her creative mind takes her. She is inspired by art everywhere - in Nature, museums, people, and has been creating for over 20 year in her Howell home!
I dive into the intriguing world of art and nature full-speed ahead. I am constantly thinking about what I might create if I combined this with that... Mixed-media allows endless boundaries for exploration, and the wonder continues!
Gardening Angel Creations
38 years ago, Peggy taught herself macrame, making plant hangers, curtains and lampshades. She took a hiatus while raising her children, but has returned to her craft.
Greg enjoys experimenting with various surfaces and textures to offer a unique look in photography. He captures many local barns and landscapes, along with those from afar.
Family music artist who has held special performances at Finding Roots.
Mike and Michelle have been creating handmade and hand painted wood work and honey from their
Virginia is a country girl at heart with quiet time in nature bing her inspiration. She has made her high fired stoneware pottery from Michigan clay for most of her life. Her creations are dishwasher and microwave safe.
Erin's creativity comes out to play in her leather jewelry, string art and canvas art. She has searched for leather earrings with no success, which inspired her to create her own unique line. We are happy to have her share them with you, created locally in her Howell home!
Ryan's teacher and greatest inspiration is his grandfather. He enjoys finding new places to explore and discover his next subject. His attention to detail and unique mounting methods offer a fresh perspective of nature as well capturing our local community.
Susan compares her transformation after tragedy to the lotus flower, rising from the darkness. She is inspired by nature walks, found objects, textures & emotions while striving for imperfection - wabi sabi. She hopes her White Lake creations cause you to pause, be inspired and smile.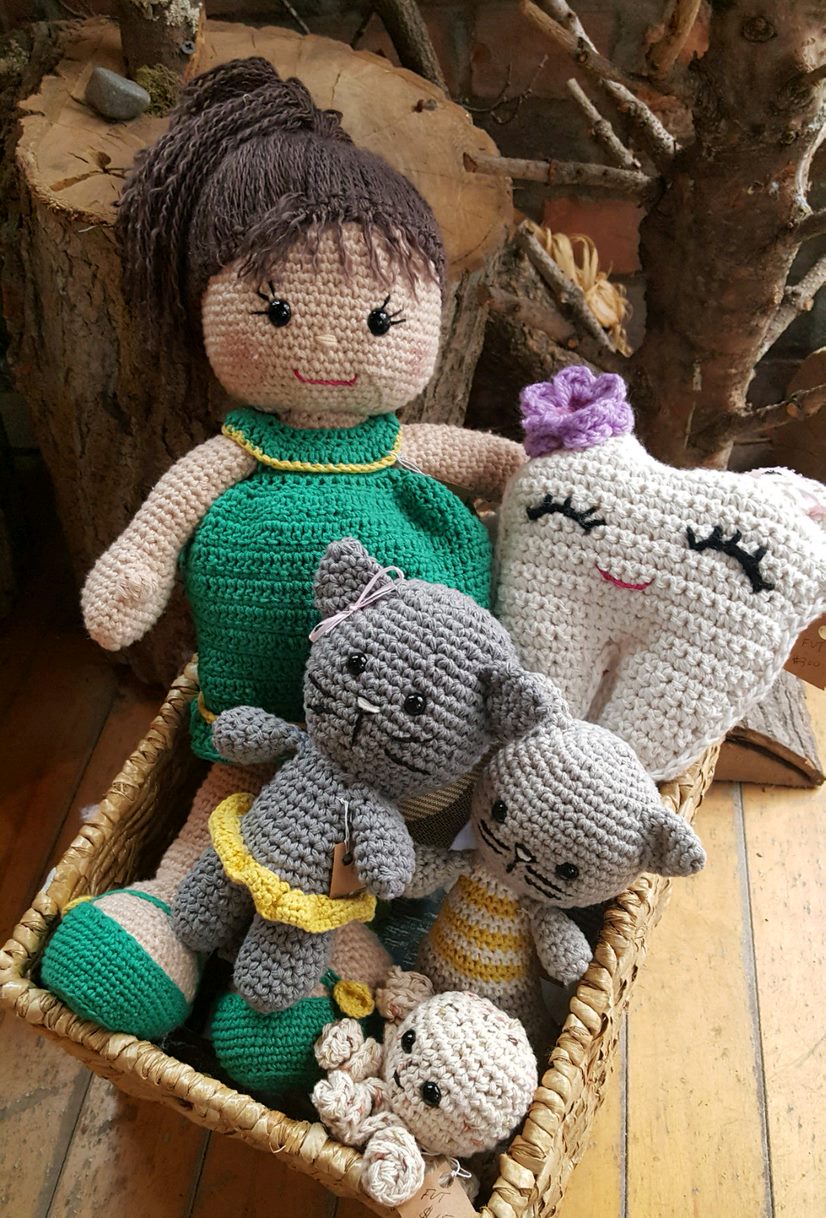 Faith puts tender care in each piece she knits or crochets, using quality yarns and fibers.
Kelly's family and friends encouraged her to sell the soaps they all love to use. She searched to find the best earth-friendly, natural ingredients to create her skin-nourishing, amazing-smelling and beautiful soaps and bath bombs for all to enjoy.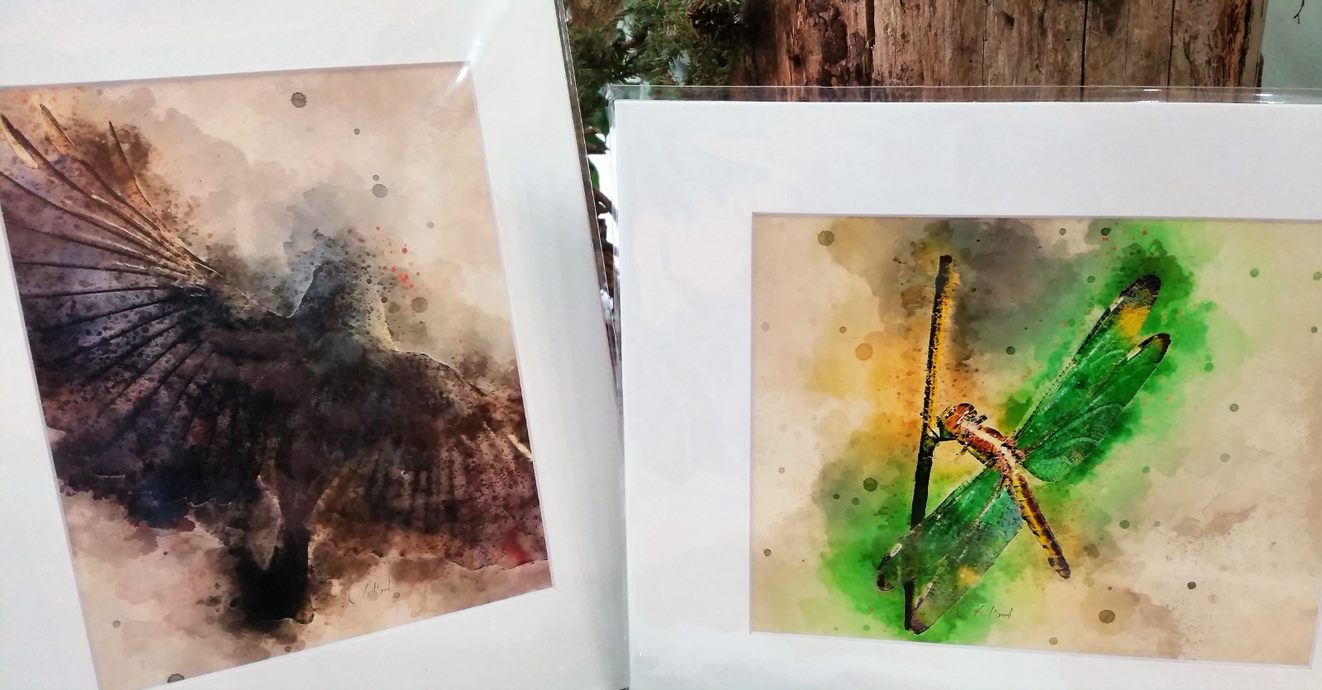 Clint is an amazing storyteller from Fowlerville, and believes it is his job to tell the story that absolutely everything has, in whatever mediums possible.
Jenny has a passion to be behind the camera, enjoying and capturing the wonders of the world. Starting as a hobby, it has bloomed into a small business, allowing her to share her creative perspective with others.
Melissa would like to know, what is your purpose? What is your word? She is inspired by her family, and enjoys helping others, even if it is "just" a word of encouragement.
Hot or cold therapy for warmth, comfort and relief. Made with Michigan cherry pits.
Fun toys for your furry family members and dryer balls made from Michigan sheep fiber and alpaca fiber from this maker's own farm in Howell.
Diane and her son began making the origami Paper Cranes as an exercise in calming the mind and strengthening the spirit. The cranes are an eclectic mix of different papers and colors and strung for hanging anywhere. The origami Cranes serve a special message of peace and joy and good fortune.
Jason is a constantly changing expressionist that uses art as one of the many tools to connect to others. He has used many different art styles throughout his many years of blending science with art. This style is called electroforming, and after five years of using it in different ways, he started designing crystal jewelry out of the love of crystal and mineral collecting.
From graceful and elegant to playful and sly, painting goats offer a boundless array of style, shape, texture and color to Leah's canvas.
Deborah has been creating one thing or another for as long as she can remember, and has just recently began crocheting baskets. She uses jute combined with cotton and found items to create these beauties.
Rachel's small-batch, artisan body care products use only natural ingredients, carefully made in her home kitchen since 2015.
Many moons ago in a far away place, I saw clay. I touched it. It was squishy. I made a mud pie and contemplated the possibilities of this substance. Fast forward many sunrises to a time when I was in a classroom and my teacher held up a ball of this magical medium for all to see. He handed it to me and said, "Go forth and create." So I did. ;-D I am Marla James. I am a Potter and dabble in Polymer Clay. With 38+ years of playing in the mud, I am still loving what I do. I hope you find my creations fun and useful!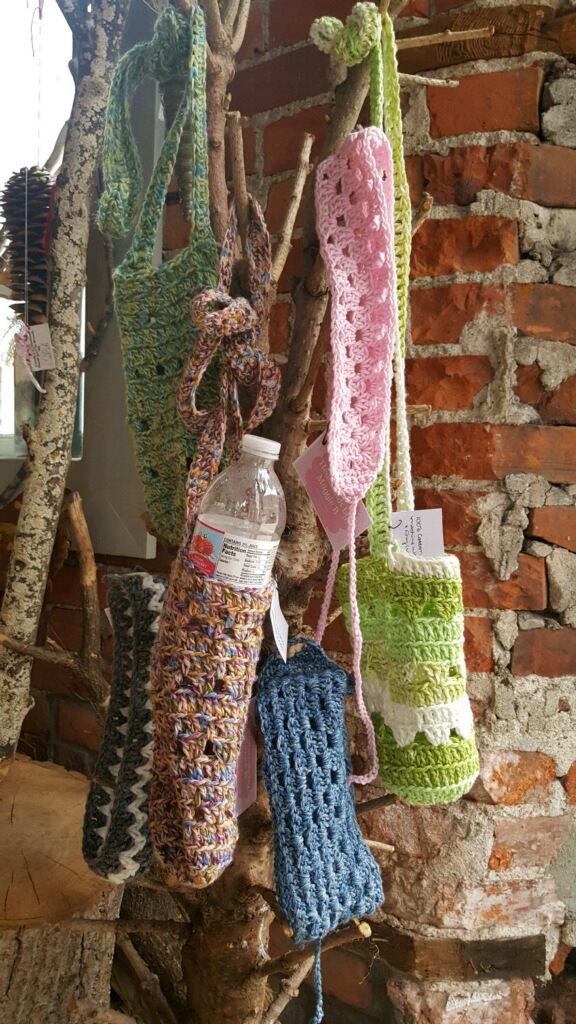 Maggie has been crocheting for years and enjoys finding new patterns and interesting projects to create. She is inspired by unique fibers and color. When Maggie isn't tangled in yarn, she likes to cuddle her rescue dogs and spend time with her family.
Miranda has a great love for Mother Earth, and sees the beauty in all of Her creations. Passing this love & appreciation on to her children is very meaningful, and she hopes that in seeing her one-of-a-kind natural creations, made in her Howell studio, you will also feel that love.
Using many different mediums, Tiffany creates digital prints and artwork that provides a subtle beauty that moves a person when they see it.
Lori's glass pendants are the ultimate in recycling! While stones were her usual tumbling choice, she discovered the smashed wine bottles added for proper tumbling of the stones turned out beautiful pieces of glass. A new passion was born as she paired the colors and shapes to create interesting, unique pieces.
Snarky But Joyful
Encouraging and colorful cards, wall art and more. Each piece is unique and made just for you!
Stitched with love … stuffed animals with unique designs.
Don is a creator of fun and repurposed silverware yard stakes, critters, jewelry and whatever else he imagines. His inspiration comes from playing with the various metal pieces, along with the suggestions of his many followers. He stays extremely busy and smiles all the while in his Pinckney studio.
Your Yesterday
Your Yesterday is a collection of products made with pure and natural ingredients formulated to maximize their benefits.
Meticulously handcrafted with carefully handpicked ingredients to ensure quality. It is produced in small batches for freshness and optimum results.
Augusta's ceramic artwork is hand-built and comes simply from a love of nature and the sounds of the buoy bells on the lake where she grew up. She finds nature to be soothing and healing and feels that she was called to catch these moments of nature's beauty for all to enjoy.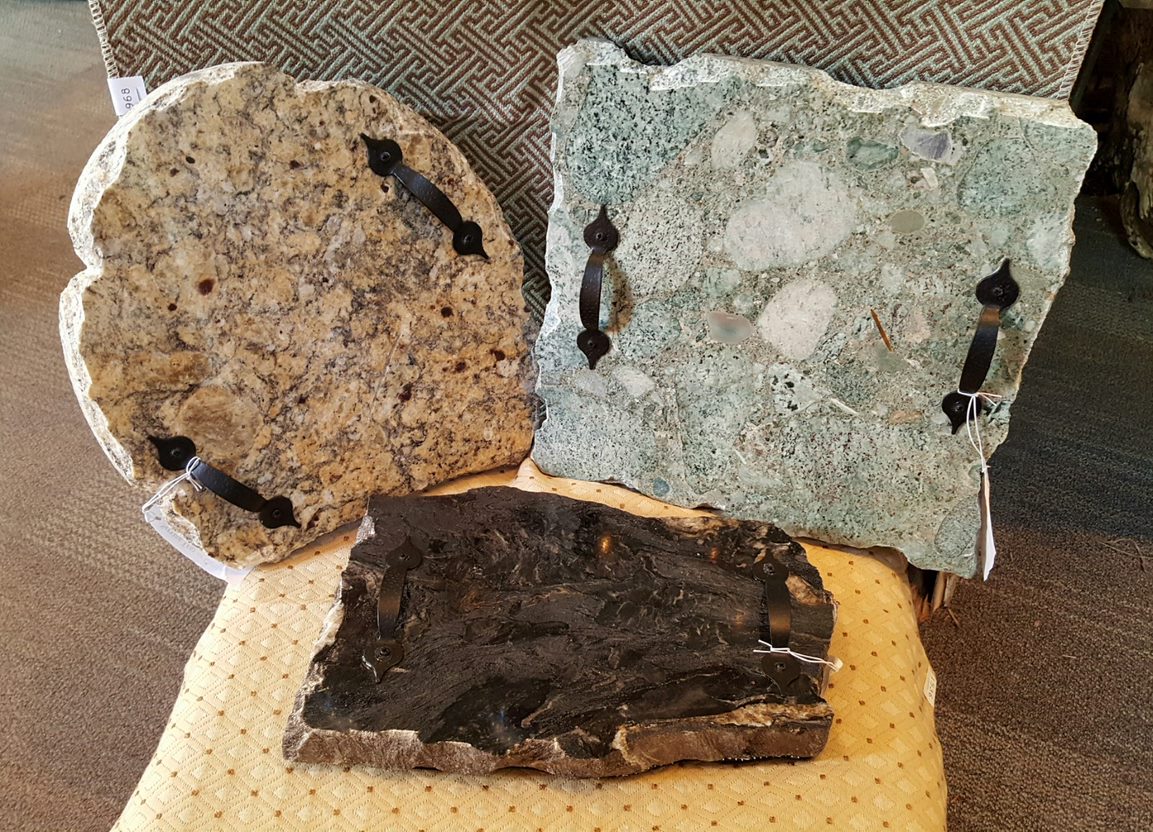 Carrie has been creating on and off for 10 years, and in inspired by anything in nature that she can turn into something new.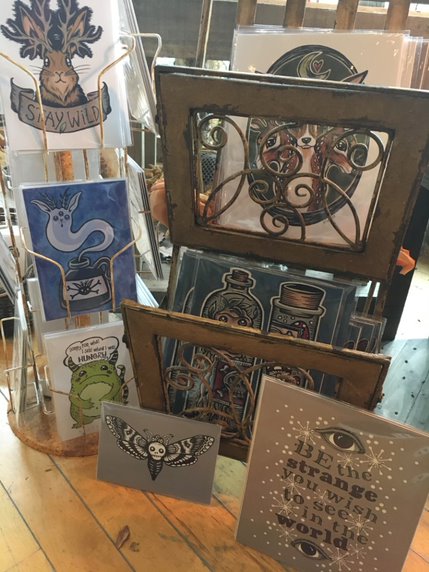 Melanie from Earthenwood Studios is inspired by geeky, horror, mythology, legends, oddities and esoteric themes. Illustrations are created by using pencil, pen, and marker. The images are then printed on recycled papers as cards, as well as stickers and pins.
At Fleece & Thank You, our focus is to provide every child who has a life-threatening illness with a colorful, fleece blanket prior to the start of their hospital stay.

We believe there should be a colorful, fleece blanket waiting on the hospital bed for the child, and we are going to make that happen in every hospital in the United States.
Genoa Meadows Farms is located in Howell and is proud to be suppling the local area with their Goat Milk and Alpaca products. All products are handmade using raw milk from the farms goats and felt from the Farm Alpacas.
Nature's apothecary, currently offering incense and lavender bags.
For more than five years, Judy has been creating. Her inspiration comes from nature, her children and grandchildren.
Liz enjoys the challenge of painting portraits, street scenes, and still lifes, but her passion is painting intimate looks at the natural world. Her favorite medium is watercolor due to its magical results.
Mary Quinn Rich Pottery was developed from years of growing up with Artist Parents, a creative spirit, and a love of nature. All stoneware and porcelain pottery is functional and decorative. Adding photos, painting, colors, texture and pine needle coiling makes her pieces take on a life of their own.
Marvin and Robin are a husband and wife team who have been creating unique iron art and architecture for over 25 years. Their works reflects the combined efforts of a master gardener/artist and welder/metalsmith. They specialize in one-of-a-kind and custom pieces created in their Linden area workshop.
Neil Sutton: Second Chance Iron Works
Neil and his family work together to run a small machine and fabrication shop in Durand.
Infant apparel. Each piece is individually hand designed and stamped.
Dyanna has a strong need to work with her hands, and loves repurposing items - turning something that could have ended up in a landfill into a one-of-a-kind, handmade creation. You'll find Dyanna's creations seasonally, watch for her amazing warm creations in October!
Second Journey Woodworks
Simply put, Randy enjoys experimenting with different types of wood made into various unique household accents, whether it's a sofa table, side table, shelf or something else. He is excited to see what his "Second Journey" will become.
Traditional cloth dolls have become something of a lost art. Erin is pleased to have this opportunity to offer one of a kind, heirloom dolls that will las for generations to come.
They come to life the moment they are completed, some look sassy, others proud and some shy. Each individual creation is further complimented by the story that will surround them in time to come. Erin feels that this is the most unique thing about her work - the idea that the doll continues to grow, change and mold in character even after the last stitch has brought the doll together.
Joyce loves stones and working with her hands. This combination has led to the creation of unique pieces, showcasing what nature has provided rather than hiding it.